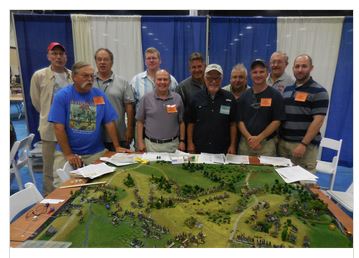 Pictures from Historicon 2015 in Fredericksburg, Virginia this past weekend are posted below.  Thank you to P.J. O'Neil for sharing them.  According to P.J., Historicon was "epic and spectacular event" and a great success. Good gaming was had by all!
On Friday night, Dean West with Duke Seifreid gave an emotionally moving talk about John Hill which had many crying.
On Saturday, July 18, 2015, Dean West and Patrick LeBeau played an Across A Deadly Field (ADF) scenario, Champion Hill, which lasted 12 and a half hours with 13 players altogether.
Your dad's genius was glowing through all the JR and ADF games, and the people he brought together were doing what he helped make happen and wanted- having fun. Something that will last forever, after the grief lessens.  Happy and sad all at once, a testament in itself.    ~ P.J. O'Neil

 
Historicon 2015 is the largest tabletop gaming convention worldwide and is held every year at the Fredericksburg Expo and Convention Center featuring approximately 500 tabletop games and 60 gaming vendors from around the globe for one full weekend of history-based fun.
This year's theme, "End of Empires," focuses on honoring the following:
The 200th anniversary of the Battle of Waterloo,
The 150th anniversary of the Civil War's conclusion
The 70th anniversary of World War II's end
"We selected 'End of Empires' because it covers a lot of these anniversaries that are happening"  ~ Convention Director  Paul Delaney told Fredericksburg.com
Check out the review of ADF the War in the West and to get your own copy, you may visit the ADF Store.
Please feel free to leave comments below and I will reply shortly. Thank you for visiting my tribute site.