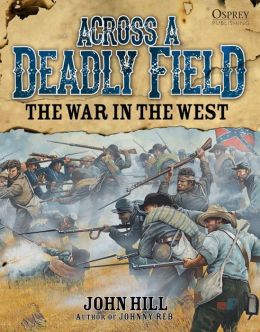 Review of ADF:  War in the West
Across A Deadly Field: War in the West is John Hill's third and what will final rulebook to be published by this phenomenally  talented historian.  As many of you now know, John Hill passed away six months ago and has been dearly missed by his family, friends and his fans.  Having been released in May of this year,  four months after he passed away, Across A Deadly Field: War in the West strives to be provide ample scenarios of the Western ACW Theater which aims to produce hours and fun and entertainment for you and your wargaming group.
Cory Ring wrote the following on his CigarBoxBattle website:
The third book in John Hill's "Across A Deadly Field" rules trilogy is now out! This is a very special book if you are a John Hill and ADF fan, since this will be John's final publication. As many of you know, John passed away this year and he has been sorely missed. The ADF rules and this scenario book will leave a fitting and lasting legacy. John was a phenomenal historian and game designer and I feel this is some of John's finest work.

The ACW history in the book is fantastic and well researched and John always has an entertaining and  slightly different take on historical situations. If you are a fan of the Western ACW theater, this book is well worth the price alone just for John's re-telling of the historical campaigns and battles.

The core rules are also expanded, and there are new rules and additions for: interpenetration by disorder and skirmishers, farm areas and fields, combining fire restrictions, second charges, charges against unseen units, cavalry representation and weird weapons (by Mike Bradford). If you are gaming the ACW with ADF, these rules will add a new and needed dimension to your game and possibly clear up some rules questions.

The core of this book however are the scenarios. There are a lot of great Western ACW scenarios that will give you and your gaming group hours of enjoyment. Here are the scenarios included in the book: Shiloh – A stubborn flank (9am attack on the Union left flank), Shiloh – A long morning (the main center battle 8am – 1pm), Shiloh – Sheman's Fight (8am – Noon CSA attack on Sherman's 5th div.), and Shiloh – The Hornet's nest (11am CSA attack on Gen. Prentiss). There are lots of great maps by Todd Davis and the battle of Shiloh is broken down into several playable scenarios, perfect for any rule set.

The next scenario is from the Vickburg campaign,  "Champion Hill – May 16th 1863″. This scenario was written and designed by John's good friend Dean West. Dean was part of the original Johnny Reb design team and also assisted on ADF. Dean is an expert historian (and retired KY cavalryman) and provides an expert recap of the battle which is accompanied by a well researched  terrain map, scenario and OOB.  This is definitely one battle worth playing!

Paul Stevenson wrote the excellent "Pickett's Mill" scenario, which is part of the Atlanta campaign. It is a small scenario, which explores the "opportunity squandered" on May 27th, 1864. This makes a great introductory ADF scenario for an often overlooked engagement.

John wrote two Nashville scenarios which are also included in the book. The first of these is a small scenario on Dec. 15, 1864 called "A Questionable Diversion", which explores a small Union attack on Cleburne's division. The second scenario is a large "Battle of Nashville" scenario which explores the  main Union attack on the CSA left flank along the Hillsboro Pike on Dec. 15th. This an a big, and often overlooked western ACW battle which is finally getting the attention it deserves.

These scenarios will work for any set of ACW rules! Pick them up from your local gaming store, or from your favorite online retailer. I would also like to point out that John Hill's daughter, Stephanie Hill, has started a wonderful website (www.acrossadeadlyfield.com)  dedicated to her father and ADF. You can also purchase this book thru her site, which I highly recommend!
Hstoricon is coming up this weekend from July 16-19 and John will sorely be missed as he was a regular facilitator and promoter of his ADF rulebooks.   You can check out more on Historicon by reviewing the popular Questions & Answers, asked by many folks.
---
Thank you for taking the time to stop by and read my latest post on ADF and John Hill.  I hope you take the time to leave a comment and I will reply shortly.