This page has additional links to things pertaining to John Hill and/or miniature wargaming.
---
John Hill honoring his friend Dean West into the Legion of Honors for talented wargame designers.
---
           Flames Beyond Gettysburg: The Confederate Expedition to the Susquehanna River, June 1863 by Scott Mingus
---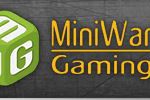 The MiniWarGaming site has videos, tutorials, games, shows, a store, a forum and more. Wargamers will find supplies, discussion forums and more on this site.
---
John Hill Obituary – Santa Fe New Mexican newspaper  

---
John Evans Hill (February 21, 1945 – January 12, 2015) was an American designer of military war games. read more
---
In Memoriam – John Hill, 1945-2015, Designer of 'Squad Leader'
If there is a heaven just for game designers, it has a new archangel. John Hill, best known for designing the groundbreaking board wargame Squad Leader, passed away on January 12, 2015. He was inducted into The Game Manufacturers Association's Academy of Adventure Gaming Arts & Design Hall of Fame in 1978; Squad Leader was inducted into the Hall of Fame.
---
American Heart Association Memorial Page for John Hill – John Evans Hill, born 2-21-1945, died from congenital heart failure on January 12, 2015 at Christus St. Vincent Hospital in Santa Fe, New Mexico. John struggled for many years with genetic heart problems. In the fall of 1997, he had a heart attack which resulted in a quadruple bypass surgery and multiple pacemaker defibrillators. Therefore, we wish for our family and friends to donate to the American Heart Association to help others like John.
---
In Memory of John Hill (PPT) – This link is a PowerPoint slideshow I created for my father's memorial service on January 18, 2015 in Santa Fe, New Mexico.  You will need PowerPoint and Windows Media Player installed on your computer to view this file.
---