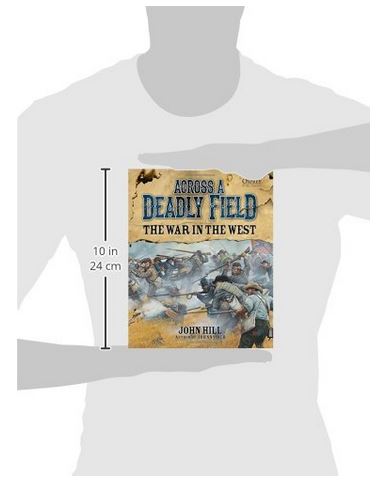 TITLE:  Across A Deadly Field: War in the West
AUTHOR: John Hill
PUBLISHER: Osprey Publishing
ISBN: 978-1472802644
PUBLICATION DATE: May 19, 2015
PRICE: $20.00 approximately – available both from Amazon and Barnes & Noble
AVAILABLE IN KINDLE: YES
LANGUAGE: English
GENRE: History | American Civil War
FORMAT: Hardcover
PAGES: 148 PAGES
---
About the Book
This is the third rulebook of the ADF Trilogy.  This will be John Hill's last book because as his fans and friends are aware, John passed away earlier this year on January 12, 2015.  This book has the reputation of being of his best rulebooks yet and as is a special book which serves to leave a lasting and memorable legacy.   My father always had an interesting and entertaining perspective on history and it always showed through his works.  Across A Deadly Field: War in the West is no exception to that.
In the field of Civil War research, despite the many hundreds of very well-researched books and resources that are widely available in both print and digital format there never ceases to exist some new piece of research or a new perspective of looking at how the interplay of terrain, tactics and pure chance helped to shape battles and campaigns.   Historians of all kinds are taking fresh looks at prior accepted interpretations and wargamers are taking their miniatures to the tabletop terrains and playing out alternate decisions and vagaries of chance.
There are full color imagery throughout this attractive hard bound book.  This book is worth owning if you have any interest in the Western Theater even if you have not used the ADF rules in the past.  There are many Western ACW scenarios in this book to keep you and your wargamer group busy for many hours.
The following are the scenarios you will see in this rulebook:
Four scenarios covering the first day of Shiloh (Apr 6, 1862)
One scenario covering Champion Hill, part of the Vicksburg campaign (May 16, 1863)\
One scenario covering Pickett's Mill, part of the Atlanta campaign (May 27, 1864)
Two scenarios covering Nashville (Dec 15, 1864)
About the Author
In the field of tactical wargame designs, only a very few designers had as much impact as, my father John Hill (1945-2015). In the 1970s, John started his own company to design and publish tactical and operational games that broke from traditional wargame mechanics. Realizing that he preferred designing wargames over running a business, John sold the company and became a freelance wargame designer. From then on, John Hill's designs for Avalon Hill, SPI [Simulation Publications Inc.], SDC and others became noted for their innovative approaches to simulating unique tactical situations. In 1977, John designed Squad Leader for Avalon Hill.
According to the Fire & Movement magazine, Squad Leader broke the mold for how tactical combat was portrayed on the gaming board, and its impact is still felt today. The first freelance wargame designer inducted into the Origins Hall of Fame, John is perhaps best known for his Johnny Reb rules for the American Civil War. The author lived in Santa Fe, NM with his wife Luella.  They were married in Guadalajara in August 1968.
---

---
If you have any comments or questions, please leave them below and I will reply.