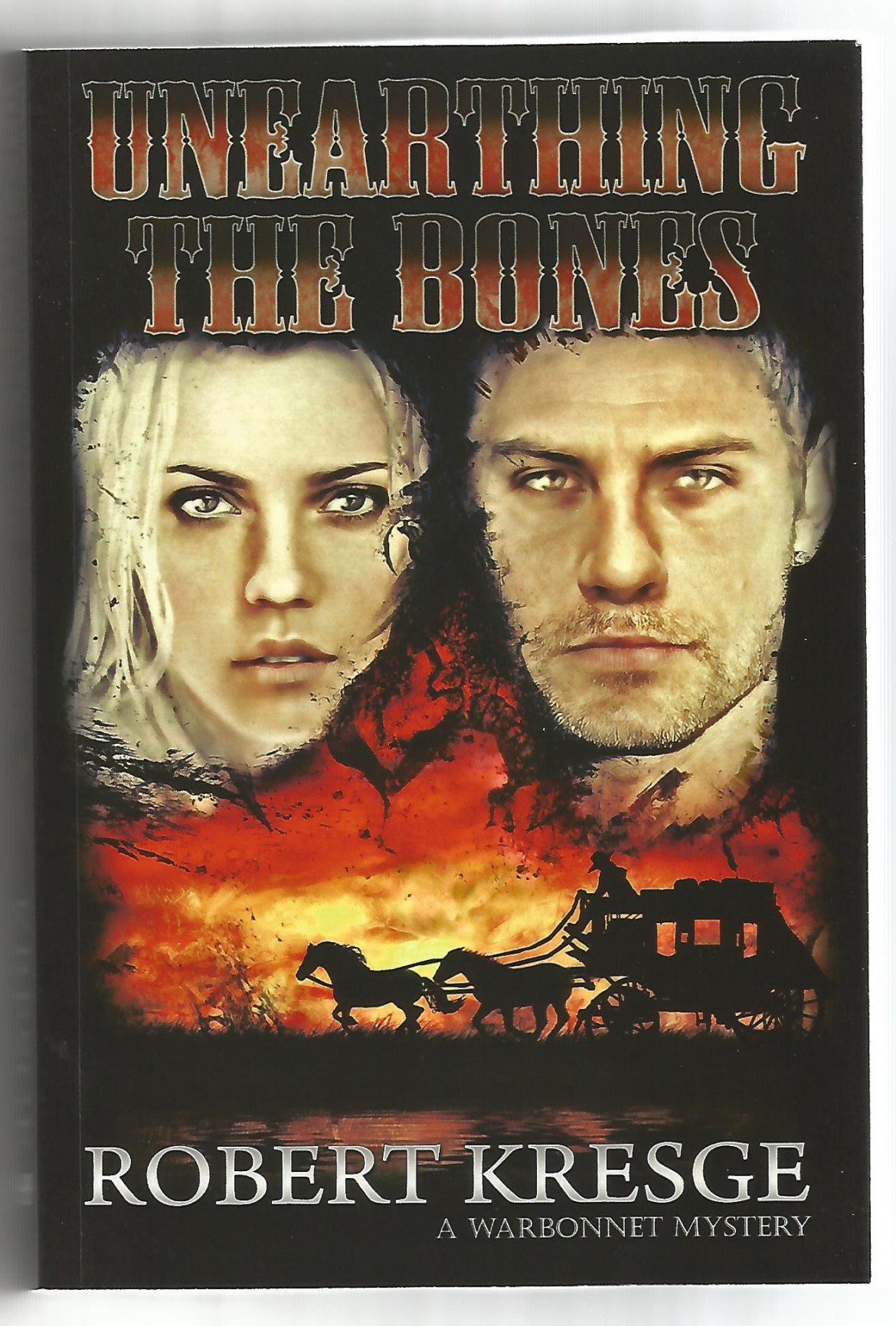 Unearthing The Bones By Robert Kresge
Unearthing The Bones by Robert Kresge is the fifth book in the Warbonnet Mystery series.  The Warbonnet series is a historical mystery perspective with much suspense, vibrant strong characterization and a love story.  The theme of the book series is set in the 19th Century American West with every detail of the language, customs and attire of that period.  Robert Kresge does a wonderful job at making the characters believable and very likable while showing the essential elements of a small-town in the Western front.

Clyde Lindsay, author of the Josiah Beede historical mysteries and the Old River which is forthcoming, states that, "If you're interested in how we Americans got to where we are, pick up one of Kresge's Old West mysteries. But I should warn you:  They're habit-forming.""
Susan McDuffie, author of award-winning Muirteach McPhee mysteries to include the Study of Murder, describes Kresge's latest book in the Warbonnet series to be an entertaining and engaging mystery which will transport the reader to a very real look at Wyoming in the 1870s.  McDufllie states, "Custer's incursions into Sioux lands lend an undercurrent of darkness to this sparkling mystery, enlivened by Kresge's portrayal of day-to-day life in the little town of Warbonnet.  Unique and true-to-life characters, paired with great dialogue, make this a wonderful and highly recommended getaway to the Old West."
Laura Sanchez, author of the New Mexico mystery Killer Miracle, praises Kresge on his straightforward writing style which delivers a fast-paced mystery that is full of delights.  Sanchez says the "characters speak and act convincingly for this time and place, rather than displaying miraculously modern opinions on topics such as racism and sexism."
Dedication to John Hill
What makes the recently released fifth book special is it's dedication to John Hill, my father.  Robert Kresge personally gave my mother and I a copy of Unearthing The Bones with a special note with warm wishes to my mother and his signature on the inside cover.  The dedication page specifically states it is dedicated to the memory of John Evans Hill (1945-2015) and lists both all the professional and personal attributes of my father to include Historian, Award-winning Wargames Designer, Civil War Expert, Businessman, Intelligence Analyst, Husband, Father, Grandfather and Friend.  Robert Kresge and my father were long-time friends and colleagues who worked together in the intelligence community.  Thank you Rob for your dedication of your latest book in the Warbonnet series to John Hill.
About the Author: Robert Kresge
Check out Robert Kresge's website at www.robertkresge.com.  All works mentioned here are published by ABQ Press in Albuquerque, New Mexico.
Taken from the Amazon Robert Kresge page:
Rob Kresge grew up in the Maryland suburbs of Washington, DC, but got to travel to the West as a boy. He graduated from the University of Missouri with a bachelor of journalism degree in 1968, served four years on active duty in the Army (including 1969-70 in Vietnam), got married in 1973 and joined the CIA that same year. He worked as an analyst on Vietnam, North Korea, international terrorism (two tours, including as a founding member of the Counterterrorist Center), gray market arms dealers (like terrorists, but with suits, yachts, and private jets), and sanctions on the former Yugoslavia that contributed to the Dayton Peace Accords in the Balkans.  Rob retired from the Army Reserve in 1998 and from the CIA in 2002. Since then, he has lived and written in Albuquerque, New Mexico with his wife and first reader, Julie
Literary Awards Won by Robert Kresge
Kresge is a well accomplished author having won the following:
Winner, 2014 Tony Hillerman Award for Best Fiction for his book, Saving Lincoln (2013)
Finalist, 2014 Sue Feder Award for Best Historical Mystery
Finalist, 2014 Best Historical Fiction, New Mexico-Arizona Book Awards
Finalist, 2014 Best Mystery/Thriller , NM-AZ Book Awards
My Final Note
I just started reading Unearthing the Bones as we only received it a little while ago, but I am enjoying every minute of it.  If you enjoy historical fiction and historical mystery, you will certainly enjoy this book.
---
 Please feel free to leave comments below and I will reply shortly.  I would especially love to hear from you if you are familiar with Robert Kresgy's works.
Please see my affiliate disclaimer.