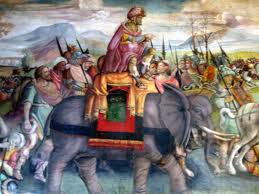 A Historical Look at Our Empires
Throughout our world history dating back 500 plus decades, many empires have risen and declined. We have read countless books and articles and scanned through educational webpages relating to our world history on the famous empires to include some of the following.
Egyptian Dynasties
The Egyptian dynasty consisted of a succession of a kings all who were related by blood each one having the throne through their right of inheritance.  There were a total of 31 dynasties broken down into seven categories based on time periods leading up the arrival of the Greeks which were lead by Alexander the Great.
Chinese Dynasties
Ancient China dates back thousands of years. During this time, just like the Egyptians, much of China was ruled by Dynasties, rulers who were all part of the same family. The first emperor of China was Qin Shi Huangdi. The Chinese Dynasties were in existence from 2205 BC to year 1644.
Persian Empires
Cyrus the Great is attributed to leading the Persian Empire. Cyrus' strategy was to conquer nearby territories and unite them with the existing empire thus, creating a larger empire. This vast empire continued for over 20 decades. The land known as Media consisted of east and west Asia and continued to expand. The Persian Empire lasted from 550 BC to 331 BC.
Carthaginian Empire
An informal empire of Phoenician city-states throughout modern Spain and North Africa from 575 B.C.E to 146 B.C.E.
Other famous and well-researched empires included the Roman Empire and the Holy Roman Empire.  We learn about our modern day society through thorough examination of our past and the various tragedies.  We can examine leadership principles effective for modern day by studying the rise and fall of our leaders of the past such as Alexander the Great and  Qin Shi Huangdi and Cyrus the Great.
The end of empires is the theme for the upcoming annual wargaming convention known as Historicon which is a little over a month away from today.  The theme will be including long ruling and short-lived empires from the very early empires to modern empires. Historical Miniature Gaming Society, organization which also  aims to offer a wide range of historical periods and a variety of tabletop miniature gaming as a means to allow us to study and relive our past through simulation and role-playing. Wargaming can be fun and entertaining, but can also be educational.  As people, we often learn best through visual aids and wargaming can be a way for both young and old to see firsthand what the greatest measure a soldier can give to his country and cause.
John Hill (1945-2015) was a regular attender, presenter and facilitator of his creative works to include Across A Deadly Field, Johnny Reb and Squad Leader. He undoubtedly will be missed this year at Historicon 2015, which is the largest historical wargaming convention in the United States.  John Hill always featured his renowned games to his fans with enthusiasm, extreme enjoyment and dedication.  There will be memorial speeches and memories shared for all in attendance. Below is a YouTube video of my father, John Hill, speaking last year at Historicon 2014 honoring Dean West for his contributions to the wargaming community and pinning him into the Legion of Honor.
---
Please feel free to leave comments and I will respond shortly.
---