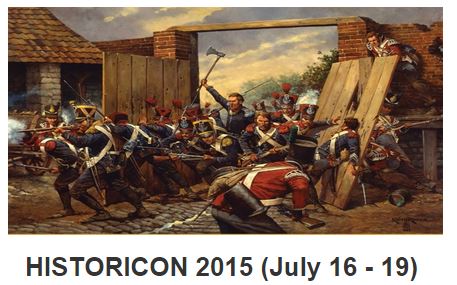 What is Historicon?
Historicon is an annual historical gaming convention that happens every year in the month of July lasting over four days. Almost 4000 people from around the world come to Fredericksburg, Virginia to play in tournaments, attend seminars and participating in the Hobby University, which teaches skills in painting miniature figurines.  The genre for the games consist mostly of historical ancients to history modern making, but can also include science fiction and fantasy.  Historicon 2015 will be held from Jul 16 – July 19.
One thing which will be different with this particular year is one of the key players will not be in attendance.  John Hill passed away earlier this year will be dearly missed by all his friends and fans who regularly attend Historicon.  A eulogy will be held honoring John during the convention.  Dean West, one of John's oldest friends and fellow game designer, will conduct the eulogy.
Who is it for?
Historicon is for any gamers or military history buffs.  If you enjoy playing scenarios of ancient military battles fought, Historicon would be a great event for you and the whole family.
How much does it cost?
If you an Historical Miniatures Gaming Society (HMGS) member, the cost for you to attend is $25.00.  That is for the whole four day weekend.  If you only wish to come for a day, it is $15.00.  If you are a non-member of HMGS, it is $50.00 for the whole weekend.  Children 14 years and younger are FREE.  Spouses who are non-playing are FREE.  It is a pretty reasonable price.
What if I am a newbie to Historical Wargaming?
Newbies are always welcome. If you are a newbie, it is recommended you follow the tutorial to learn more about the hobby of miniature wargaming.
Can I park on site?
Yes. There are over 1200 free parking places at the Fredericksburg Expo & Convention Center which is the site for Historicon. The convention is located at 2371 Carl D. Silver Parkway in Fredericksburg.
Where are the closest major airports?
The following three airports are all within an hour drive away:
Richmond International
Dulles International
Reagan National Airport
Are there dining and shopping options nearby?
Yes. The convention center is a 10 minute walk away from the Central Park Shopping Complex which is the 7th largest mall in the country.  There are over 250 stores and restaurants.  Some of the stores include Ann Taylor Loft, Barnes & Noble, which also sells the ADF books by John Hill and Squad Leader products, Best Buy, Clothes Mentor, Dollar Tree, Dress Barn, Ethan Allen, Family Christian Stores and more.
Are there other things to do and see in the area?
Yes. Fredericksburg is home to four major battlefields of the American Civil War as well as Kings Dominion Amusement Park, Virginia's premiere theme park with thrill rides and roller coasters as well as Planet Snoopy for the little ones and Soak City, a family water park.
How Do I Register for Historicon?
You can either register online or by mail or on-site.  For more information, visit Historicon: End of Empires.