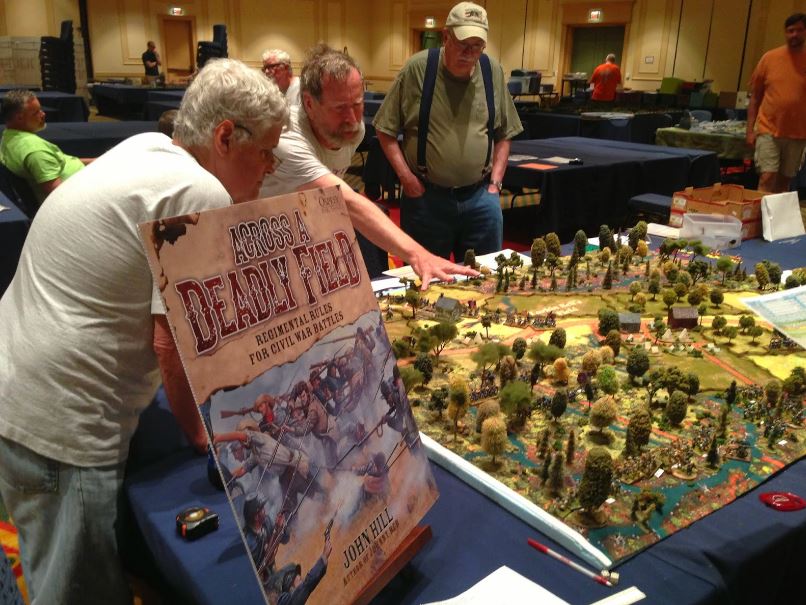 About Historicon
Historicon is the largest gaming convention of its kind in the North American region. It is devoted to historical miniature wargaming and sponsored by the HMGS (Historical Miniatures Gaming Society. Last year I wrote a couple articles about Historicon 2015 to include reviews of Historicon 2015, Photos of Historicon 2015, and a Q&A on Historicon.
John Hill Memorial Games
John Hill was a regular facilitator at Historicon. He traveled every July out to this well-known wargaming convention.  Last year was the first Historicon since his passing. Many games were played at Historicon 2015 as a memorial to John Hill.  This year at Historicon 2016, there will be several games that will be played by Patrick LeBeau honoring John Hill.   Visit the Historicon 2016 Program Information to view further details.  The specific John Hill memorial games will be as such:
Thursday @ 12pm T-519 The Guards Counterattack, a John Hill memorial game

Length: 2 hrs
Hosted by: Patrick Lebeau
Scale: 15mm; Rules: John Hill's Squad Leader in miniatures
No. of Players: 4
Details on Historicon 2016
The theme for Historicon 2016 is Cavalry, Mounted Warfare through the Ages and will be held at the Fredericksburg Expo & Convention Center just as it has been for many years.  The convention center offers a total of 11 meeting rooms.  The Grand Ballroom can be divided into six separate sections, accommodating up to 700 guests. The address for the convention center is  2371 Carl D Silver Pkwy, Fredericksburg, VA 22401.  

The dates are July 14-17, 2016.  Online Registration is Open.  It is highly recommended you register online so to avoid the long lines of paying at the door. You want to spend more time enjoying the convention and less time waiting in line.
Travel Arrangements to Historicon 2016
Need to check out cheap flights to Historicon 2016? Find them by using the form below:
Check out great deals on hotels here:

Comments
Please leave comments below and I will reply shortly.  If you are a wargamer and planning on attending Historicon 2016, please consider submitting photos to this website. You can send them to stephaniehill@acrossadeadlyfield.com.
Thank you for reading and look forward to hearing from you.