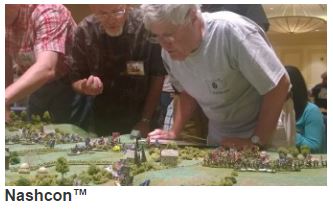 Nashcon 2016: This Coming Weekend
About a year ago, I wrote a post about Nashcon 2015 and about how John Hill was Remembered at Nashcon 2015.  This coming Memorial Day weekend, Nashcon 2016 will be occurring.  Nashcon continues to be an open gaming convention for miniatures games, board games, card games, and other fun gaming events. Nashcon draws well over 400 gamers every Memorial Day weekend. The admission price is only $35, which gets you into every game, provides you with a hotel discount and brings you in touch with the best gamers in the region.
Naschon 2016 will be held at the Franklin Marriott Cool Springs.  To book a room, you can use the form below to get the best rate:
Naschon will prove to yet another fun convention. There is going to be a variety of tournaments and games being run. It should appeal to every gamer out there.
Grab your sword General, rally your Standard Bearers and bring your forces to the Mighty Armies National Championships! Pit your Army against some of the greatest armies in all the Kingdoms for Honor and Prizes! Don't have an Army ready to go? Fear not! There will be some pre-built armies on hand for those can't raise an Army in time. There will also be awards for most original army and a best in show!
That night will also have a few openings for a new Beta Test and possibly a LAST MAN STANDING BATTLE ROYALE! So Grab your Army and join us at NASHCON on May the 28th! Registration begins at Noon!

~ Courtesy of Naschon 2016 website
We hope all of you wargamers are going to be able to make it.  If you do plan on going and are able to take pictures, please feel free to send them to me at stephaniehill@acrossadeadlyfield.com.  I will post them on this tribute blog to John Hill, giving you full credit.
Need a last minute flight to Nashville, Tennessee, the closest airport to Franklin, Tennessee?  You will find cheap last minute flights using the form below:
If you need a rental car while you are in town, you can find the cheapest deals below:
powered by:

I hope you have found this post on Nashcon 2016 to be helpful when getting the information you need as well as finding the cheapest hotel, flight and rental car.  Please leave comments below and I will reply shortly.