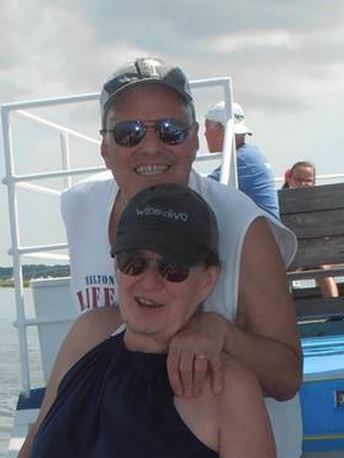 Trips My Parents Took Together
Every year my parents traveled together to Hilton Head Island, South Carolina.  It was a trip they both always enjoyed taking together.  It was their happy place.  A place to escape from life's worries,  A place where they could unwind and relax and not worry about deadlines, traffic, frequent hassles associated with job, and everything.  Hilton Head was their place.  It was their unique special place.  Hilton Head Island features about 12 miles of beachfront along the shoreline of the Atlantic Ocean and is a popular vacation spot for tourist around the world.  The island is named after Captain William Hilton who in 1662 identified a headland near the entrance of Port Royal Sound which he named "Hilton's Head" after himself.  My parents had been making this trip for many years, often times going twice a year.  Sometimes they invited some of their good friends to join them.  They would enjoy eating at good restaurants, kayaking, and enjoying the sunsets together.
John's Passing
As many who have visited this website before will know, John Hill passed away approximately eight months ago in January of this year.  If this is your first visit to this site, then welcome.  I designed this website as a tribute to my late father showcasing the brilliant and talented man he was. He passed away very suddenly and unexpectedly on January 12, 2015 from congenital heart problems.  I designed this site to honor his life's achievements.
To honors my father's wishes of being cremated, we choose that option when he passed away.  He always said that when he died, he wanted to be cremated.  So we, of course, held up his wishes.
Scattering At Sea
Having ashes scattered in a place that held special meaning to the deceased is an honorable choice to make for surviving family members.  This scattering site is often times at a place of recreation.  Home is the where the heart is.  Since Hilton Head was so special to my parents and represented a place of calmness and happiness and a place where my father always enjoyed the most as his favorite vacation spot with his beloved wife of 46 years, my mother and I have decided to embark on a journey to Hilton Head, South Carolina to have a private scattering ceremony where we will scatter some of his ashes at sea along the shoreline of the Atlantic Ocean.
It is important to us to have a scattering ceremony in a place that was meaningful to my father.  Hilton Head seems to be the perfect place.  This will acknowledge my father's past and include him in our present tense. This hopes to be a central part of our grief journey.  We will be picking fresh flowers to release in tandem, de-stemming them in advance and placing them in a sealable.
I will be leaving it my mother's discretion, of course, to scout out the exact perfect location for the scattering ceremony since Hilton Head was so special to the two of them.  Also, since this will be my first time going to Hilton Head, I know nothing of the best places.  I am assuming, however, we will be getting up before sunrise, before the beaches are crowded with families and children, and stroll down to the shoreline and just as the sun is rising, scatter parts of him along the shoreline of the ocean, allowing the tide carry him out to sea.
The purpose for the flowers will be throw them in at the same time as his shes as to permit us to visually follow the ash flow and make the ceremony slightly less melancholy.   In addition, I can shoot photos of the flower and ash floating on the water so friends and relatives who won't be present can share in the experience later when I published the images here on this website.
My First Time to Hilton Head
As mentioned in the prior paragraph, this will be my first time to Hilton Head. Before my father passed, my parents always told me that someday I should come to Hilton Head with them.  The timing was never right for me, because they always traveled during the off season when school was back in session and the beaches were not as crowded and being that I worked in the education field, I was always busy with students as they were back in school and could never go during the off-season.
Well, I am happy to report that this time, I will be able to go with both of my parents, because Dad is coming to Hilton Head with us, where we will honor him by releasing him to the Atlantic Ocean.  When my father first passed away, I was not thrilled with the idea of cremation, but since that is what my father always vocalized to us that is what he wanted, Mom and I did exactly as he would have wanted.  But travelling to my father's favorite vacation hangouts has shifted my perspective. By bringing a bit of him to scatter at Hilton Head, we can honor his past and include him in our future adventures as two single women taking on the world together.
We will be leaving for Hilton Head in about ten days.  I will report to you via this website as our journey unfolds.
Thank You Rob & Julie Kresge for Your Contributions
I wish to thank Julie and Robert Kresge, author of the Warbonnet Mystery series for taking the time to email me these beautiful photographs of my parents taken at Hilton Head while they were all vacationing together in 2014.  Thank you for helping to make this article as special as the man whom it is honoring.
Comments Welcome, But Please Show Respect
As always I welcome any and all comments on this website.  I recognize that some cultures and religions view ash scattering as being disrespectful.  If that is your opinion, I wish to say I do respect that and to please have the same mutual respect for my family as we do believe in the act of releasing one's soul through ash scattering.  This will be done as a wildcat ash-spreading which means we are not going to seek permission or request permits as some officials may like, because we believe this ash-spreading will be a wonderful gift to us and allow us to peel away a few layers of grief.  Plus, if anyone knew my father, I am sure you would agree when I say I think he would have liked that this is slightly illegal by some people's standards.