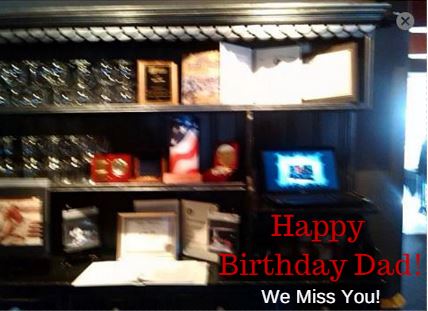 Celebrating His 2nd Birthday Since His Passing
Last week was my father's 2nd birthday since his passing.  My father passed away less than six weeks before what would have been his 70th birthday, so this past week would have marked his 71st birthday.  Not wanting the day to go by unnoticed, Mom and I called up some close friends of ours and took them out to lunch to celebrate my father's birthday. We talked about him and laughed about some of the memories. Did my father know we remembered him and wished him a happy birthday? I like to think so, but does it truly matter? It is meant more for those of us who are left behind here on Earth, those who are grieving, than it is for those who have passed. There is something touchingly therapeutic about recognizing them just as you would before they passed.
If you have lost someone you love, the hardest days can be those birthday and anniversaries.  Find some ways to help with the grieving. My mother and I planned and chose going to one of my father's favored restaurants with close friends of his and my mother's.  It is something that we would have done for my father if he were still with us and I think that is one of the best ways to celebrate. Treat the day as if he or she were still here.
It is said that writing in a journal or composing a letter to your loved one who has passed is a beautiful way to remember them.  I have taken that a few steps further by developing this tribute site to my father and continue to work hard maintaining it.  I find it healing and I also think it helps others whose lives were touched by my father through his game designs, friendships and generosity towards others.
Another way to celebrate special days of those we have lost is to do random acts of kindness.  Doing something good for others helps you to feel better about yourself and the losses you have suffered.  Look around and discover a way you can be of assistance to others.  I was at the grocery store, and I typically do this without even thinking, but this week I made a point to look closely at people around me while I was shopping for food and saw one lady in a scooter who was reaching from your mobile wheelchair for something on a higher shelf.  I walked over to her and asked her if I could get something for her, she was very appreciative, told me what she wanted and I picked it up off the shelf and handed it to her.
If you are hurting because you have lost someone recently and it is a special birthday or anniversary, help yourself heal by helping others.  Thank you for reading this post.  For more information about John Hill and his accomplishments, you may visit the about page.
---