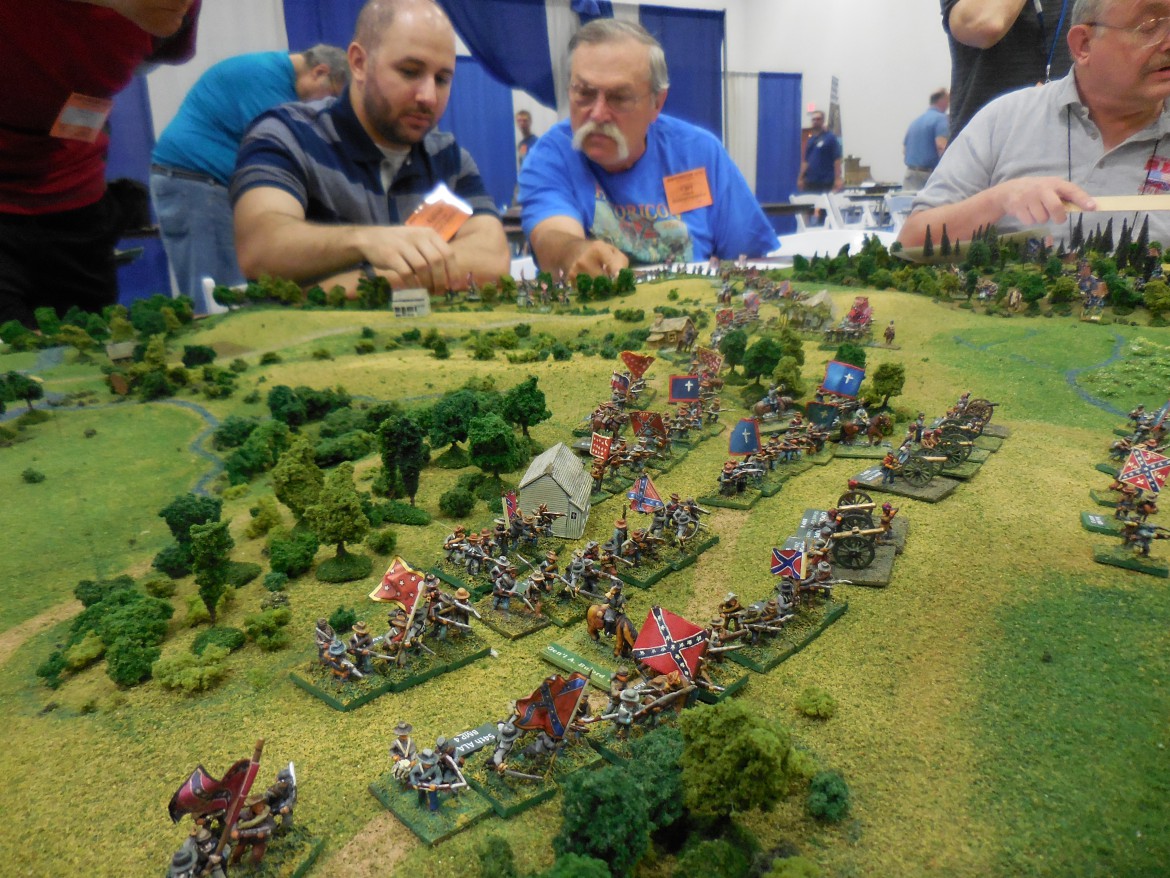 Understanding The Hobby of Wargaming
Many wargamers report having begun the hobby of wargaming as a young kid.  As young boys and girls you were excited by the idea of controlling large squadrons of small military figures and your weekly allowances would go towards your supplies and more miniatures.  Has your child shown an interest in wargaming?  I know many parents will perhaps be concerned or perhaps confusion, because wargames can be harder to relate to.  I feel that the hobby is a positive one overall. In this article I will attempt to address some of the many concerns many parents may feel towards wargaming.  You may be apprehensive about this hobby and not sure how much you should encourage or discourage your child from becoming involved with wargames.  This article aims to be an effective parent's guide to understanding tabletop wargaming.
Introduction to Wargaming
Kids are typically introduced to wargaming through a buddy or while browsing a hobby shop much like the one my father owned in the 70s.   The miniature figures can be eye-catching with exciting and uniquely painted artwork that is displayed in various cabinets along a wall. Learning how to paint tiny figures is part of the hobby and can be great for your kid in developing their fine motor skills and creativity.  They are small and usually no taller than an inch or two.  They are referred to 10mm / 15 mm / 20mm because that is how small they are.  They come in either 10 or 15 or 20 millimeter sizes.  In addition to the people, you will have larger things like canyons, tanks or buildings.  The most common type of tabletop wargaming, and the one which my father, John Hill, designed and orchestrated, is Civil War or World War II.   When it comes to the types of historical tabletop wargaming my father designed, they can not only be entertaining but educational as well.   There are, however, many more genres of miniature wargaming all with their own set of rules.  There is science fiction, fantasy, horror or Victorian theme-based wargames.
Components to a Wargame
A wargame will have these basic features:
A large-scale tabletop miniature wargame

Instead of game pieces, you use armies of miniature figures.
Instead of squares on a board, you use tape measures.
Dice are still the main decision makers as the number of the die will determine the battle outcomes.

In order to complete a mission, you battle opponents

Your goals will be to wipe out the enemy or kill their commander or take over a fort.
Civil War Miniature wargames are going to be long in nature.  You cannot play a game in 30 minutes or less like other tabletop games.

Wargames can take up a large amount of space

An entire dining / kitchen table will be necessary and sometimes you might need more room than that.  My father had an enormous custom-built wargame table in our basement in the house I grew up in Indiana and it took up nearly the entire 12 foot space. But you can modify it if space is an issue.  Just be prepared it will take up more more than your average game of Checkers or Chess.
With wargames, you add terrain like houses, hills and trees add that add to your child's imagination and true understanding of what it must have been like fighting during Civil War battles.
There are few games that will aid in your child's creativity more than wargames.
 Some wargames are going to be more difficult to understand and learn how to play than others.   It will depend on your child and their age and their overall determination to learn how to play.  One of my father's earliest games was Battle of Stalingrad and that is best suited for ages 12 and up as well as  Squad Leader.  You can also get the Advanced Squad Leader Starter Kit  for under $30 which is also meant for ages 12 and up.   You get two 8″ x 22″ full-color beautifully illustrated mapboards that can be rearranged to create several various terrain configurations along with 280 fully detailed with differently colored counters representing both half and full squads, leaders, and support weapons which were used for fighting across Europe.
What is a good age to start the hobby?
As a parent myself, I understand that the first question you may have is at what age is the best to start the hobby.  I first off wish to say that it is ultimately up to you Mums and Dads if you feel this is an appropriate hobby for your child, because you know your child better than anyone else.  I will say that playing wargames can be intense and does require patience, maturity and the ability to interact with others.   Most kids are ready to be introduced at the age of 12 because that is the age in which they can understand what can be often confusing rules along with intense disagreements.  After seeing and observing my father and his wargaming buddies throughout my childhood as well as adulthood, I can attest that the intense disagreements don't just occur amongst the kids.  Fully grown men can sound like a bunch of angry young boys when there is an intense disagreement.  If you are a wargamer, don't try and deny it, because you know I am right!  🙂   By age 12, most kids usually have enough fine motor skill development to be able to paint miniature figurines because that is a huge part of the hobby.
Allow Things in Moderation
Too much of anything can be bad.  If their school work or other responsibilities are being impacted, don't blame the game.  Any hobby like watching TV or playing video games and even sports can take away from their responsibilities.  If it becomes a problem, just limit their time.  You are the parent and you are in charge and have total control of what you think is best.  School and grades should always come before their hobbies.
What's the difference between "Wargames" and "Roleplaying Games"?
There are many differences to wargames and roleplaying games.
In roleplaying such as in Dungeons and Dragons, players take the role of a single character in a fantasy world.  They develop and gain experience.  They level up and acquire riches and more power.  Games are played from the perspective of that role or character.  They act out things and talk to one another as if they were these characters.   Since there is no "end" or "winners" in roleplaying games, things are less intense and much more cooperative and friendly.  However, players can become attached to their characters and often can loss sight of reality at times because they become too immersed in it.
Wargaming is more like a fancy oversized chess game.  Players control will control their squadrons and every game has an end.  Someone loses.  There's no roleplaying to it.  You do not put yourselves in your troops' shoes.  You do not act things out.  All you are doing is moving figures around on a tabletop.  Like any sport, there will be winners and losers.
Just How Complex are Wargames?
It is true that these games can get very complicated and adults have numerous disagreements too as I eluded to above. The rules are certainly more difficult to learn than games such as Monopoly and Checkers.  Understanding tactics are can on a new whole new world completely.  I compared wargames to Chess, calling wargmes a fancy oversized Chess, but with wargames you have many more options than in Chess.  There definite advantages in that kids who grasp these concepts end up learning a lot about analytical thinking which could ultimately lead to a better grasp of complex school work.  As I said earlier, there are educational benefits to learning and understanding wargames.   If you are unsure if your child is ready to master the complexities, one piece of advice for you is to take them to a hobby shop, because most hobby stores will gladly show people how the games are played and this is an excellent way to see if your kids can comprehend the system before spending either yours or their money.
How Much Does it Cost?
Wargames are sometimes more expensive than your typical board game.  However, if you keep an eye out, you can sometimes get good deals.  You can peruse the ADF Amazon Store or the Squad Leader Amazon Store to find great bargains.  I also have a page to an ADF Barnes & Noble Store.  It is no more expensive than buying a computer, game console with a bunch of video games or athletic equipment for a kid who plays sports.  A musical instrument and/or music lessons are also expensive.  Just about any other hobby these days will cost money.  You an get a starter kit for around $30 or so.  These starter kits can make a great birthday or Christmas gift.  This is enough to get your kids started and see if they like the game.
There is a little more beyond just the models, especially when you are talking about painting the miniature figures. You might be looking at $20 – $40 in other hobby expenses to include glue, paint and brushes.  These are an aboslute necessary to assemble and paint the figures, but it's also an extremely important part of the hobby and one that I think leads to their creativity and fine motor development.  Aside from the glue, other supplies can be purchased after you decide if it's something your child(ren) want to stick with.
Once they playing the basic game, your kids will want to increase the size of their army.  This is something that is very affordable that they can use their weekly allowance for or obtain a part-time job delivering newspapers or cutting neighbor's grass.  Models can be bought for around $10-20 or they can save up for larger things such as entire squads, tanks, weapons, canyons, buildings, trees, fences, etc.  Another thing your kids can buy is more paint and replace brushes as required.  This is trickier as a gift, because you will not know what models they want so look over their shoulder when they are on Amazon and see what they are interested in.  Amazon gift cards make a great holiday present and that way they can get whatever they want.  And the nice thing about Amazon is you can buy things used as well making it much cheaper.  The downside of getting wargaming pieces used is they might come already painted and part of the fun of wargaming is painting your own pieces.
Can Girls Play?
Girls can definitely play wargames, but typically it is considered a "boys" hobby.   Most of the players are primarily male, but that does not mean girls cannot play too.  Just like in some sports where most the participants are male, but that does not mean girls are necessarily excluded.   Being a female myself, I can attest to having a difficult time trying to integrate into a male-dominated interest.  When I was a teenager, I joined a program similar to a Junior ROTC program called the Sea Cadets.  I was the only girl and I endured some chauvenism but that did not stop me from going.  If your daughter is interested in wargaming, chances are she is strong enough to endure the occasional remark from insensitive boys.
Is Wargaming Popular?
With the high amount of interest in video games and other electronic devices, it can be hard to get kids interested in old fashion board games rather alone tabletop wargames.  But kids will learn more and develop more skills such as social interaction and team building not to mention analytical and creativity by playing wargames than sitting in front of the television gripping to a joystick.  There is much to be said about interacting with real people instead of making only online friends.
Your kids can probably find friends to play with through school or local clubs.  Help your kid put an ad in the school newspaper and see if they can meet new friends who are interested.
What if They Lose Interest?
What can I say?  Kids will do that.  That is why it is always best to go with a starter kit to begin with and if they like it, then you can invest more.  You can hold off buying it and if your kids keep asking for it instead of forgetting about it, then maybe they have a real strong interest.   You can also let them spend their own money and if they do lose interest that is a part of growing up, spending money and realizing later it was a mistake.  It can be a lesson learned about spending money.
My advice to you is if they do decide to quit, find out why, because with the complexity of wargames, it might just be a matter of not understanding the rules.  Sit down with them and find what why they say they are no longer interested.  It could be something as simple as helping them to understand the complexities of the game and once they understand the rules better, their interest might be peaked once again.
How Long Do Wargames Take to Play?
Miniature wargaming as mentioned above can take a good portion of the day. But so do athletic events and sporting games.   If they are using your dining room table to play a wargame and the day turns into evening and they are still playing, it can get in the way of supper time.  But parents are used to dealing with pleading children and you know best how to negotiate with your child.  If the dining room table is being used more often for wargaming than for supper, consider investing in a couple folding tables from your local Home Depot or where ever you would go to get folding furniture.
In Summary
To summarize, wargames can teach kids how to analyze scenarios, think critically, interact socially with real people, team building skills, how to lose with dignity, about mathematics and adding and making predictions.  As kids become more interested in wargames and play more often, their ability to understand complexities will increase as well.  If your kid is showing any interest, it does not hurt to get an Advanced Squad Leader Starter Kit or check out the online stores below.

In addition, Barnes & Noble are offering Columbus Day Sales: Columbus Day Sale! Buy 1, Get 1 50% Off Educational Toys & Games. Shop BN.com. Valid 10.10 – 10.12.15
---
I hope you enjoyed this article.  Thank you for visiting my website today.  If you have any questions or comments, please leave them below.