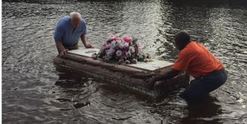 Plans to Travel to South Carolina
As many of you who have continued to follow this website will know, my mother and I have made plans to travel to South Carolina to scatter my father's [John Hill] ashes along the Atlantic Ocean in Hilton Head, South Carolina.  My parents spent vacations for many years travelling to Hilton Head.  It was their "happy place" – a place they could get away to and have spend quality time as the happy couple they were who continued to always be in love with each other for the 46 years they were married.  Nowadays, you do not hear about couples who have stayed together that long.  As a divorced mother of two grown kids, I know that better than anyone.  My parents cherished each other and for that when he decided to have my father cremated, I was not sure how comfortable I was at first with the idea, but now I know it the best thing a family could do, because you are then able to take your loved one where ever they would have liked to have gone.  You can take them with you to foreign countries or places that were special to them and scatter some of their ashes so their spirit will remain where the heart lies.
In remembrance of my father, my mother and I are planning on travelling to South Carolina next week (less than seven days now) to Hilton Head, South Carolina to release some of my father's ashes out to sea at a place that was so meaningful to my parents.  We have already made our flight arrangements a while back and hotel accommodations and my mother has a list of restaurants that she and Dad visited frequently when they vacationed in Hilton Head.  We were and still are excited for this time.  However, if anyone has been watching the news, a massive hurricane has hit South Carolina, leaving the entire area in a state of emergency.
Update on the Flooding in South Carolina
Although the rain as finally ceased, there is still much occurring in South Carolina with a large array of new serious concerns. There are dam breaches with some of them breaking due to the excessive rainfall plus billions of dollars of damage. At least eleven dams have failed in South Carolina.  State Governor Nikki Haley said, "Just because the rain has stopped does not mean we are out of the woods…..We have not seen this level of rain in the low country in a thousand years."  One water rescue team said they rescued more than 140 rescues in one county alone.  They have been hundreds rescued in the historic South Carolina flooding.   There are rivers that have not yet crested.  So far, the death toll is up to 17 people, 15 in South Carolina and 2 in North Carolina.  The exact cost of the devastation has not yet been released yet, but Federal Emergency Management Agency officials are making assessments according to Gov. Haley.  More than 400,00 South Carolina residents are under a "boil water advisory" which means due to the water contamination from the flooding, residents are told to boil any water they use for consumption before using, because there are 16 water systems affected.
There of course were many items that were seen floating around as a result of the flooding.  There was furniture, vehicles, and other personal belongings, but one that was perhaps more dramatic than anything else – a casket was unearthed from a cemetery.  A local pastor saw it and walked into the waist-deep waters to retrieve it.  That was my feature image for this post.
The flooding in South Carolina has not just caused damage to homes and small businesses, but has also resulted in an increase in crimes and break-ins.  This past Sunday, a dam breach caused the residents of Willow Creak Apartments in Columbia, South Carolina to be rescued via a boat resulting from the dam flooding.  One resident reported when she returned to her apartment, she found more than just flood damage.  She saw evidence of theft and break-in.  She reported jewelry, televisions and anything that was upstairs was stolen.
It is a shame that when tragedy strikes instead of pulling together to help one another, some choose to take from others.   Mom and I experienced this ourselves when my father passed away.  Following my father's death, a less than scrupulous former business associate of my father's wargaming business approached my mother wanting money from old an contract that this wargamer had breached on.  He was assisted by a long-time friend of my father's which makes it even more hurtful.  We had to put a stop to that kind of behavior.
Still Planning on Going to South Carolina
Many of our friends and family have asked if were planning on cancelling our plans of going to South Carolina due to the flooding, but Mom and I have discussed it amongst ourselves and we are still planning on going to Hilton Head. We have been closely monitoring the news and the television and have called the hotel we plan on staying at to see if they are still in business as well as the restaurants my mother wishes to go to as they were special favorite restaurants my parents frequented.  We have decided to move forward with our plans because we rather die a meaningful death than live a meaningless life filled with fear of the unknown.  Non one wishes to die.  Even people who want to go to Heaven do no wish to die to get there. However, no one has ever truly escaped death.  It is a destination we all share with one another, no matter where in the world you live or what your background is.  Death may perhaps be the single most incredible invention of Life.  So, instead of being cowards and cancelling our plans, we are moving forward and will be getting out that plane to Charleston, SC next week without hesitation.  We will still be scattering my father's ashes out to the Atlantic Ocean to symbolize our love and remembrance for him.
---
Please leave comments below and I will respond shortly.  Thank you for continuing to follow me along my efforts to keep my father's legacy alive.