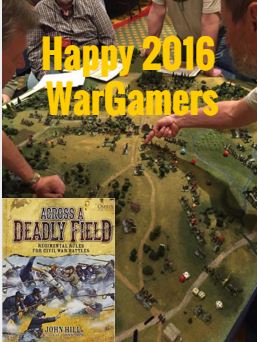 Happy New Year Waragmers!
As we ring in the new year, I wanted to thank everyone for your wonderful commentaries and support throughout last year.  It was a difficult year as we have lost some very dear people.  I know our family is not the only ones whom have lost a beloved member.  I offer my deepest empathy for anyone who has recently lost someone.  It can be hard and turn into an emotional roller coaster.
Thank you All for Your Support
I wish to thank everyone you have supportd my father's legacy by making a purchase from this website.  Your generous contributions help to honor my deceased father and continue his legacy as a wargame designer.  As mentioned in my previous post about Christomas shopping via Amazon, whenever you click to Amazon through this website and make a purchase, a commission is generated which helps to support the legecy of John Hill and all of his master pieces he created for wargamers.  Even if you do not purchase the exact item an Amazon link points to, this site still earns a commission.   Many people may think that the shopper will be charged an additional amount, but that simply is not the case.  There is no extra charge to the shopper who clicks on Amazon from this website.  A third party commission is still earned which refers to when something other than what the link is pointing to is purchased.
For More Information
If you want to read more about John Hill and the different wargames he designed, please read the about page. For specific wargames he designed,  you may check out the Squad Leader page, Johnny Reb or any of the ADF (Across A Deadly Field) pages.  ADF: War in the West was the last rulebook which came out following his passing.  He also desaigned earlier games to include Battle of Stalingrad.
Comments Welcome
Comments are always welcome.  Please feel free to leave your comments below.  This also includes any names of other wargamers who passed away in 2015.  Please consider this post to be in memory of all the wargamers who have passed.  Thank you again to everyone for your support.