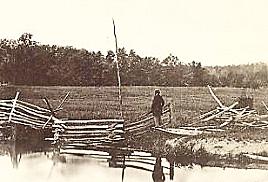 Tomorrow is the day!  John Hill, fallen highly respected and deeply missed comrade, has his third book of the ADF series coming out tomorrow, May 19th.  His latest release Across A Deadly Field: The War in the West is being released.  It is the new supplement which brings to the tabletop the harsh challenges of the Western Theater of the American Civil War.
Barnes & Noble has the least expensive price for the ADF books, including his newest release. Barnes & Noble describes John Hill as:
In the field of tactical wargame designs, few designers have had as much impact as John Hill. In the 1970s, John started his own company to design and publish tactical and operational games that broke from traditional wargame mechanics. Realizing that he preferred designing wargames over running a business, John sold the company and became a freelance wargame designer. From then on, John's designs for Avalon Hill, SPI, SDC and others became noted for their innovative approaches to simulating unique tactical situations. In 1977, John designed Squad Leader for Avalon Hill. Squad Leader broke the mold for how tactical combat was portrayed on the gaming board, and its impact is still felt today. The first freelance wargame designer inducted into the Origins Hall of Fame, John is perhaps best known for his Johnny Reb rules for the American Civil War. The author lived in Santa Fe, NM.
Barnes & Noble is selling Across A Deadly Field: The War in the West for $26.21 which is the least expensive. You would save 25% off the full retail price which is what Osprey Games & Publishing is selling it for at $34.95.
You may visit the ADF Store to compare the prices yourself so you can save money.