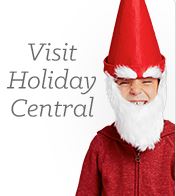 Christmas Shopping via Amazon
We all love Amazon and each year we spend hundreds of dollars shopping for the right gift for that right person.  Amazon has a massive selection of anything you could possibly want. What started out selling books has branched out into so much more.  With the economy on the mend, more and more shoppers are getting everything they need for the holidays by sitting at their computers and clicking the mouse.
Shop Amazon & Support this Site
Did you know that by clicking on any Amazon link via this website, you not only take advantage of the great deals Amazon has to offer, but you are helping me to maintain this tribute site to my father, John Hill?  You do not need to only purchase my father's popular wargames and rulebooks.  Anything you purchase through Amazon – yes anything – will earn a commission that is rolled back into the maintenance and hosting plans for this website I designed in honor of my late father.  It will not affect your pocket book in the least.  You will not be charged anything extra.  All you do is click on an Amazon link or image anywhere within this site and you will be taken to Amazon where you can shop for anything anywhere and commissions are earned from your sales and are placed back into my cost in continuing my father's legacy.
You may ask, "Why not just go to Amazon directly to shop?"  And you are right, why not just go to Amazon on your own! You could easily do that, but the difference is when you shop Amazon by clicking to it through this website anytime of the year and buy anything at all, you are also helping to support a family, a recently widowed retiree, and helping to carry on an important legacy.  You can feel good about shopping at Amazon when clicking from here because of the good will you spreading.
Reasons to Shop Online
There are a number of reasons why more and more people are shopping online.  Here are just a few:
Avoid the long lines at the malls.
No more fighting for a parking space at the overcrowded stores.
Escape the angry shopper mobs.
You can easily browse items from the comfort on your home.
Escape the high-pressured salespersons at the malls and kiosks.
You can shop 24/7 without worrying about closing hours.
You can shop in your pajamas and bunny slippers.
You do not have to leave home and thus, be able to spend more time with the family and loved ones.
You can get free shipping through Amazon.
Thank You For Your Support
Thank you to everyone for showing your support in so many different ways.  So many of you have left kind and amazingly thoughtful comments on this site and I have enjoyed reading all of them. Please don't stop.  Some of you have shared posts via social media connections and I thank you for doing so. I have received numerous private emails from many of you and thank you for taking the time to show you care.  And, of course, thank you for shopping the various stores linked through this site, because that helps to keep a legacy alive and helps me so I can stay home full-time to take care of the many issues there are to deal with as well as the number one reason and that is to be there for my mother who lost her beloved husband after 46 years of marriage.  How many marriages do you know nowadays that have lasted that long?  The picture below is one that I took several years ago and shows just how happy they were. 
Please Leave Comments
As always, I thoroughly enjoy reading everyone's comments and stories they have to share.  Leave a comment below if you wish and I assure you it will be read an responded to shortly.