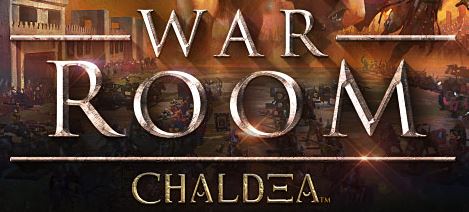 One of John Hill's fellow wargamers and long-time friends who has been mentioned before on this site, Duke Seifried, has been casted in Chadlea, a new  innovative high fantasy transmedia graphic novel series.  Graphic novels have been around for a while and with technology advancing as quickly as it, Chaldea offers a new way to enjoy graphic novels, blending stunning illustrations with music, sound, energy and live-action film sequences into one cohesive evocative tale.
Below is a letter written by Uncle Duke which details this journey into the world of fantasy and fiction:
Dear Family and Friends,

I may be 80 but somehow things keep happening.    This missive will advise you how to see the new movie series called CHALDEA.   My tin soldiers and scenics are filling a starring role in this epic that hopefully will become an icon of our love of history and fantasy.   They also cast me as the old toymaker –  a  role that is most appropriate!

 

I hope you will enjoy seeing my scenics and soldiers – perhaps you will even find my screen  performance acceptable and be willing to claim me as your family/friend?   In any event, I thought you might find this interesting.   Let me hear from you.

 

They have written five years of CHALDEA and the second episode is in production.   My good friend,

Peter Adkison

is the Director of CHALDEA and one of my major Patrons who are now the owners of Uncle Duke's Extravaganzas.  I am proud to report that my Extravaganzas are spread out all over the spectrum like Australia, New Zealand, Italy, Monaco, Barundi and even America (eight different states) plus a whole bunch more mostly in Europe.

 

I have just returned from a pair of Hobby Conventions:  first

HISTORICON

(the historical show) at Fredricksburg, VA along with a couple of my gamer buddies who also offered subjects for attendees to play; and then at GENCON (the fantasy show) where I was their Guest of Honor.

 

Well, in 11 more days I will OFFICIALLY be 80 but in order to avoid culture shock I've been admitting to this advanced age when I passed the insurance "six month mark".    I am very fortunate to reach this point considering I am already four years over my "expiration date" per the American Doctors.   My thanks must go to my great nurse, Annette, my German Doctor Kiev and the man upstairs.

 

Here's wishing all of you my very best for you and your families.

 

Affectionately or Respectfully, (choose the one you feel is most appropriate)

Duke (Uncle Duke) Seifried
Peter Adkison is the owner of the film company, Hostile Work Environment which started producing a fantasy web series called Chaldea.  The pilot episode, Chadlea; War Room is now posted online and is free to the world.   
Chaldea is a story that will be told in fiction, film, and comics---all digital, online.  War Room, specifically, is a hybrid mix of film and comic.  We are very excited to see this work online. Enjoy! ~ Peter Adikson
---
---
Please feel free to leave comments!