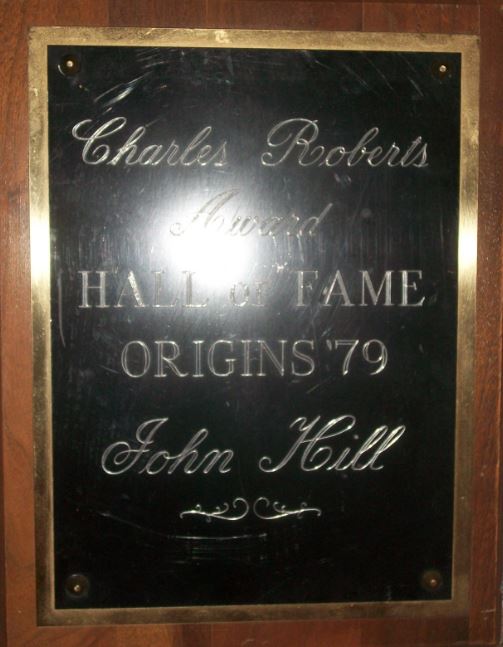 With his sudden passing, my father, John Hill, leaves behind an impressive legacy.  Though he left this world way too early at the young age of 69, he did not leave without having achieved much recognition for his dedication to his career, talents, family and friends.  Due to his extreme creativity, dedication and tenacity, he received multiple awards, many of which cannot be mentioned in light of the capacity in which they were earned.
However, with respect to his wargaming career, three of them are listed first the list below. John Hill received the highest level of recognition a wargame designer can achieve, the Charles Roberts Award for the Hall of Fame of 1979.  The fourth award relates to John's full-time career he held as a government military analyst prior to his retirement.  It goes without saying that everything my father set out to do in his 69 years, he not only accomplished but excelled in.  The four awards referenced are as follows:
Charles Roberts Award ~ Hall of Fame Origins 1979 ~ John Hill
Charles Roberts Awards ~ Best Tactical – Operational Game 1977
H.G. Wells Award ~ Best Miniature Rules 1983 ~ Johnny Reb Adventure Games Inc.
Council of Intelligence Occupations ~ Presented to John Hill ~ In Recognition of Your Outstanding Support to The Interagency Military Analysis Course
As many of you know, John's first wargame he designed was Squad Leader which led him to being inducted into the Hall of Fame in 1979 in reference to the award above. His second most popular wargame was Johnny Reb which led him to receiving the H.G. Wells Award for the Best Miniature Rules for 1983.
Thank you for reading this post on some of my deceased father's awards and recognition plagues. These awards represent only the highlights of his life-long enthusiasm for the wargaming industry.  There were many other awards of lesser significance or simply shall not mentioned.
Please feel free to leave a comment or question below and I will promptly answer you.