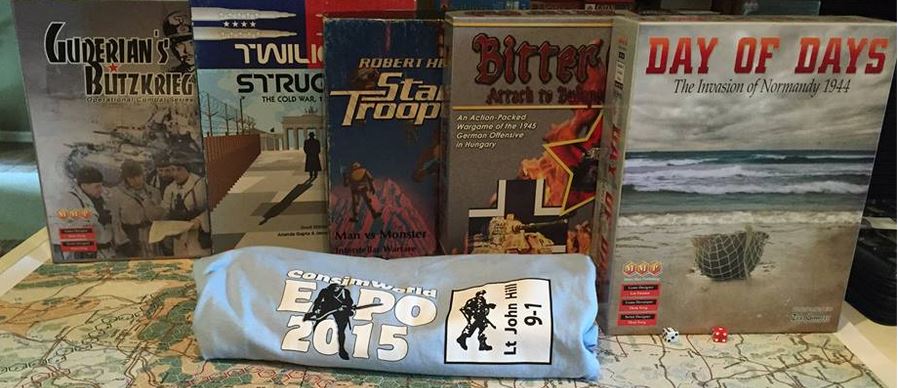 One of the biggest funnest gaming expos is wrapping up from a busy week in Tempe, Arizona near Phoenix. The 15th Annual ConsimWorld Expo 2015 occurred all last week representing many different types of tabletop games. Many gaming enthusiasts and industry leaders were present to facilitate and orchestrate the various game tournaments. There were exhibitor showcases, a game auction, seminars educating attendees on different gaming techniques, strategies and rules. Breakfast speakers did special presentations. Door prizes were won by many attendees. Playtest sessions and flea market tables were popular among attendees too.
On Saturday, June 20th an expanded venue featuring an early set-up was held allowing for early arrivals who could not wait to begin setting up and playing the latest games. Even though the expo did not officially begin until that following day, attendees were permitted to start gaming at 10:00am, giving them an extra day of tabletop gaming.
About half of the attendees at ConsimWorld participated in the MonsterGame.CON which features multiple-player monster games. Many gaming enthusiasts finally had the chance to play a particular monster game that they had their eye on for awhile.
For those who were not into monster gaming, Open-Gaming Nirvana was a sure-fire bet. Dedicated space was made available for those individuals who were unable to participate or attend the entire event or wished to experience multiple open-gaming endeavors. Typically, ConsimWorld Expo would host more than 30 open-gaming titles. Wargames were among the open-gaming venue to include my recently departed father, John Hill's Squad Leader.
John Curran, moderator for the Johnny Reb Yahoo Groups, recently posted the following regarding a tribute to John Hill at ConsimWorld 2015.
I have been attending ConsimWorld this week in Tempe AZ (Tempe is directly adjacent to Phoenix, i.e. a satellite city if you like).
ConsimWorld features mainly large board wargaming. Run by John Kranz, it used to be called Monster Con or something similar. Apart from the large games however there is plenty of open gaming also. Lots of variety – saw off the Crusaders in the First Crusade at the weekend, playtested a friend's game design last evening, etc.

As a tribute to John Hill, the Consimworld tee shirt which is given to early registrants free, or can be bought at the Con, features "Lt. John Hill" as an emblem on the front. It is of course a tribute to his work on Squad Leader, perhaps his signature board game. He designed several others including Yalu and Battle for Stalingrad.

Also the guest of honor, the game designer Mark Herman spoke fondly of meeting and working with John Hill against a 1970's picture of John with Howie Barasch of SPI. There was a big ovation in tribute to John.

He is certainly missed across the wargaming community.
ConsimWorld was well attended with roughly 300 attendees from all over the United States and worldwide including the United Kingdom, New Zealand and Canada. Many people were in attendance for their first time as newcomers, nearly 70 newbies. It was the highest number of attendees to date. If interested in attending future ConsimWorld Expo events, the next one will be towards the end of June 2016.