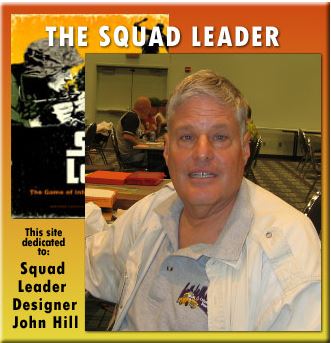 Hall of Fame Game Designer John Hill (1945-2015) designed Squad Leader, one of the most complex and thrilling wargames of its time. It is virtually and completely unique among World War II board games focusing on infantry combat in Europe.
Squad Leader is the absolute natural extension of the trends toward realism. All of the pieces of Squad leader represent the regular squads rated for firepower, range and morale as well as weapon and vehicle crews and elite squads.
Today I made changes to the John Hill wargamer tribute site shopping experience.  I created an Amazon aStore for the Across A Deadly Field rulebooks, available both in hard copy and kindle version.  In addition, I also created a second Amazon aStore for John Hill Squad Leader products with over 200 Squad Leader products to choose from. There are two different ways to access each of the online wargaming shops.  You may use the right-hand side widgets to browse either the ADF Amazon Store or the Squad Leader Amazon Store.  You can also access the wargaming shops through the navigation links. It is my aim to make your wargaming shopping experience as simple and straightforward as possible.
You still have the choice of purchasing the ADF rulebooks from either Amazon or Barnes & Noble. I created two separate wargaming shopping pages off the ADF Resources link – one for the ADF Amazon Store and one for ADF Barnes & Noble Store. I hope this makes it easier for wargamers to find the products they want at the right prices.
Thank you to everyone for your support and admiration for the contributions of the late John Hill to the wargaming industry.  My father had a drive and passion to keep the spirit of wargaming alive and kicking.  Although the world of wargaming will never see another brilliant piece of work designed by my father, you can still enjoy his many achievements and works of art.
Keep Wargaming Alive!