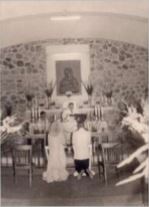 As most people who who have been to this website before, my father passed away earlier this year – a little over seven months ago.  This week marks what would have been my parents' 47th wedding anniversary.
My parents were happily married for nearly a decade.  I say "this week" because they actually had two wedding ceremonies. They were first wed in Guadalajara which is located in the Western-Pacific region of Mexico.  Their second wedding ceremony was in the United States. They had to get married in both countries because the USA did not recognize the legitimacy of an international marriage at that time.
My parents met at Purdue University where they were both university students.  My father was studying history which is no surprise to anyone who knew my father and his passion for history, specifically military history which is what he ultimately received his bachelor's degree in.  My mother was working towards a four year degree in elementary education.  She took courses in special education and teaching literacy to young students.  I would have to say I probably followed mostly in my mother's footsteps by becoming a teacher.  However, I attribute the completion of my master's degree in library science to my father because he was an avid reader and collector of books, although, they were all military history related.  It is no wonder my father used his passion to create wargames based on the various battles and war that our world has witnessed.
This has been a difficult week for my mother because it represents the first wedding anniversary without my father here.  It has been an emotional week for both her and myself.  I took my mother out to dinner at one of our favorite restaurants last night to celebrate my parents anniversary.  Thank you everyone for all your sympathies and condolences on our loss.
This site serves to not only provide resources on wargaming as that was one of the things my father was known for, but to also demonstrate my father was a dedicated family man who cherished my mother as well as me and my children, his grandchildren.  As one of his friends mentioned during the time of his passing, he excelled in everything he did from having a successful happy marriage, a daughter and two grandchildren to having a successful professional career in military affairs to being successful in his hobbies to include fishing, and railroading.